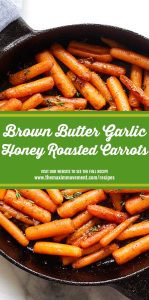 Ingredients:
4 tablespoons unsalted butter
4 cloves garlic, minced
1 lb baby carrots
1/4 teaspoon salt
3 dashes ground black pepper
1/2 tablespoon honey
1 teaspoon chopped thyme or parsley
Directions:
Preheat oven to 425F
Heat up an oven-safe skillet and cook the butter on medium heat until it starts to form and turn into golden brown. Add the garlic and quickly sauté before adding the carrots. Stir a few times, then add the salt, black pepper, honey and thyme or parsley.
Transfer the skillet and roast in the oven for 15-20 minutes or until the carrots become tender. Serve immediately.
(Credit: http://rasamalaysia.com/brown-butter-garlic-honey-roasted-carrots/2/)
---
See all Recipes
---