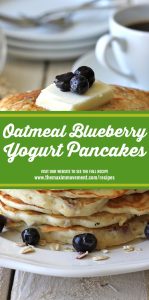 Ingredients:
1/2 cup gluten free rolled oats
1/2 teaspoon baking powder
1 container (5.3 oz) blueberry or vanilla bean yogurt
1/2 medium ripe banana
1 egg
1/2 teaspoon vanilla
1/3 cup fresh or frozen blueberries, plus more for serving
Directions:
Place all ingredients except fresh blueberries into a blender; blend until smooth. You may need to add a teaspoon or two of almond milk if batter is way too thick.
Set batter aside to thicken up for a few minutes. If batter is too thin, add a tablespoon or two more of oats and blend again.
Lightly coat a large nonstick skillet or griddle with butter or cooking spray and heat over medium low heat. Drop batter by 1/4 cup onto skillet. Add a few blueberries on top.
Cook until bubbles appear on top. Flip cakes and cook until golden brown on underside. Wipe skillet clean and repeat with more cooking spray and remaining batter. Makes 4 pancakes.
(Credit: www.ambitiouskitchen.com/2014/12/oatmeal-blueberry-yogurt-pancakes-gluten-free-high-protein/)
---
See all Recipes
---