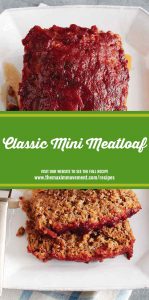 Ingredients:
2 lbs Ground Beef
1 small Yellow Onion, diced small
2 Eggs
1/3 cup Otto's Cassava Flour
1/3 cup Ketchup + more for topping/dipping
2 Tbsp Yellow Mustard
Sea Salt, to taste
Ground Black Pepper, to taste
Directions:
Preheat oven to 350°F.  In a large bowl, combine all ingredients and mix until evenly combined. Just get in there with your freshly washed hands, gross as it might feel. It's the most effective method.
Scoop out 1/3 cup of the meat mixture and roll it into a ball, then place it in a cup of a regular muffin pan. Repeat until all muffin cups are filled.
NOTE: This recipe makes approximately 18-20 mini meatloaves, so unless you have 2 muffin tins, you will need to split this into 2 batches.
Pour a teaspoon or two of ketchup onto each meatloaf, spreading it to cover the entire top surface.
Bake in the preheated oven for 15-20 minutes, or until no longer pink inside. Use a large spoon to scoop the meatloaves out and onto a serving plate. Serve with extra ketchup, if desired.
Leftovers can be stored in the fridge for up to 1 week. They are best cut in half and reheated in the oven/toaster oven at 350°F until heated through (just a few minutes, not too long).
(Credit: www.ourpaleolife.com/2016/04/classic-mini-meatloaf-muffins/)
---
See all Recipes
---