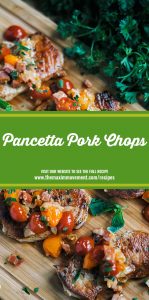 Ingredients:
1 pound pancetta, diced
2 tablespoons fresh thyme leaves
1 tablespoon fresh rosemary leaves
3 garlic cloves
4 center-cut pork chops, each about 2 1/2 inches thick
Kosher salt and freshly cracked black pepper
3 tablespoons olive oil
Directions:
Preheat the oven to 400 degrees F.
In a food processor, combine the pancetta, thyme, rosemary and garlic. Pulse until the mixture is finely ground. Set aside.
Make sure the pork chops are at room temperature, then liberally season them with salt and pepper on both sides.
Heat the canola oil in a large oven-safe skillet or grill pan over high heat. When the oil is hot, sear the pork chops for about 2 minutes on each side.
Stick the pan in the oven to finish cooking the pork, 5 to 6 minutes. Depending on your oven, of course, and the thickness of your chops, this should result in a medium to medium-well chop, still slightly pink in the middle. If you prefer a more well-done chop, add a minute or 2 to the cooking time.
While the pork chops are in the oven, heat a large sauté pan over high heat. Add the pancetta and herb mixture. Turn the heat down to low and continue to cook the pancetta, stirring continuously to break up any large chunks, until all the fat is rendered and the pancetta is crispy, 8 to 10 minutes.
Serve the pork chops topped with the crispy herbed pancetta and rendered fat.
Serve while hot and bubbling!
(Credit: www.foodnetwork.com/recipes/amanda-freitag/pork-on-pork-chops)
---
See all Recipes
---