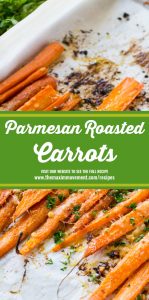 Ingredients:
4-5 cups baby carrots
1/4 cup olive oil
4 cloves (2 teaspoons) minced garlic
3 Tablespoons grated parmesan cheese
1 to 2 Tablespoons panko bread crumbs, optional
3/4 teaspoon kosher salt, more to taste
1/4 teaspoon ground black pepper, more to taste
Chopped parsley, optional
Directions:
Preheat oven to 400°F and line a baking sheet with foil. Spray with non-stick cooking spray.
Place the olive oil, garlic, Parmesan, breadcrumbs, salt and pepper in a large zip top bag. Add the carrots and shake until they are well coated. Then spread out onto the prepared baking sheet.
Bake for 20 – 25 minutes, or until tender. Toss with a spatula half way through.
Remove from oven and serve immediately. Top with fresh parsley if desired.
(Credit: http://www.iheartnaptime.net/roasted-parmesan-carrots/)
---
See all Recipes
---