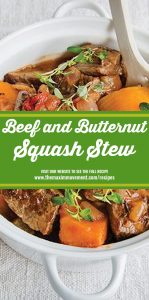 Ingredients:
2 lb Butternut Squash, peeled and cubed
3 – 4 tbsp Olive Oil
1 large onion, chopped
2lb lean beef chuck
32oz Beef Stock (gluten free)
2 garlic cloves, crushed
sprig fresh thyme, or dried
sprig of rosemary, or dried
1 tsp salt
1 tsp pepper
Directions:
Prepare the squash by peeling it, removing the seeds and cutting it into cubes.
If your beef is not already cut into pieces then cut it up into cubes, and the same for the onion.
Heat the oil on a medium heat in a large pot with a solid bottom, then add the onion and sauté for a couple minutes, now add the beef and brown it for a couple of minutes.
Add the beef stock, herbs, salt and pepper.
Cook it on the stove top on a low simmer for about an hour with a lid on the pot, do not boil.
Finally add the butternut squash and cook for a further 30 minutes or until beef is tender.
(Credit: http://www.noshtastic.com/beef-and-butternut-squash-stew/)
---
See all Recipes
---