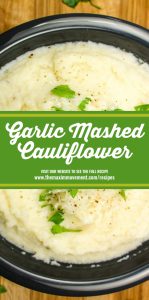 Ingredients:
1 large head cauliflower (washed and cup up into pieces- keep the stems!)
5 large cloves garlic
Salt
2 tablespoons grassfed butter
¼ teaspoon freshly ground nutmeg
Freshly ground black pepper to taste
 Directions:
Fill up a large 6-quart pot with an 1-2 inches of water.  Set burner to high.  Add in steamer insert.
Once water boils, add in all of the stems , ½ of the florets, and all of the garlic.  Salt liberally.
Add the rest of the cauliflower and season again with salt.  Continue to cook until soft (about 10 minutes).
Once done, drain out excess water and put everything into a food processor.  Season with pepper, nutmeg, and add the butter.
Process and check for seasoning.  Enjoy!
(Credit: nomnompaleo.com/post/1356203768/garlic-cauliflower-mashed-potatoes)
---
See all Recipes
---