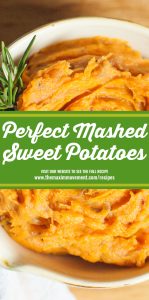 Ingredients:
2 pounds sweet potatoes, peeled and cut into 2-inch pieces
1 tablespoon salted grassfed butter or coconut oil (for vegan option)
1/4 to 1/3 cup whole milk or unsweetened almond milk (for vegan option)
1/4 teaspoon salt
1/4 teaspoon ground cinnamon
1/4 teaspoon ground ginger
pinch nutmeg
Directions:
Put the sweet potatoes in a large pot and add just enough cold water to cover them.
Bring to a boil and cook until fork-tender, about 15 minutes. Drain and return to the potatoes to the pot on the stovetop with the burner turned off. The residual heat from the pot will help any excess water burn off.
Add the remaining ingredients, using only 1/4 cup liquid to start and adding more if needed, and mash until smooth and well-combined. Serve immediately.
(Credit: http://www.andiemitchell.com/perfect-mashed-sweet-potatoes/)
---
See all Recipes
---