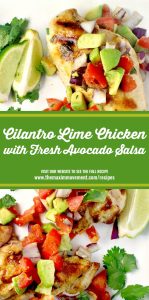 Ingredients:
2 tbsp fresh Cilantro (Coriander), minced
3 tbsp fresh lime juice
2 tbsp extra virgin olive oil
4 boneless, skinless chicken breasts
For the Salsa:
3 roma tomatoes, diced
1/2 red onion, diced
2 tsp fresh lime juice
1/4 tsp freshly ground black pepper
1 avocado, diced
1 tbsp Cilantro, minced
Directions:
Combine cilantro, lime juice, evoo, and chicken in a large bowl and marinate for 20 minutes in the fridge.
Grill chicken over high heat and cook about 8 minutes per each side or until done.
To prepare salsa, combine salsa ingredients in a medium bowl and toss gently to combine.
Serve Salsa with Chicken.
(Credit: http://www.frugalmomeh.com/2016/01/cilantro-lime-chicken.html)
---
See all Recipes
---